Hello Friends, I hope you are doing ok.
Happy Summer! I am doing a solo show at the Edinburgh Fringe! 40/40 is new dance solo! I have worked with Liz Aggiss, Lucy Suggate and Rachel Krische to make a real, raw and funny short work about dancing, about being a migrant, about my changing body and about many other things as well. Please come! I need YOU! Book your tickets here!
40/40 will be on every day at 10:10am between Sunday 14th August and Sat 20th August at ZOO Southside main stage. COME, COME, COME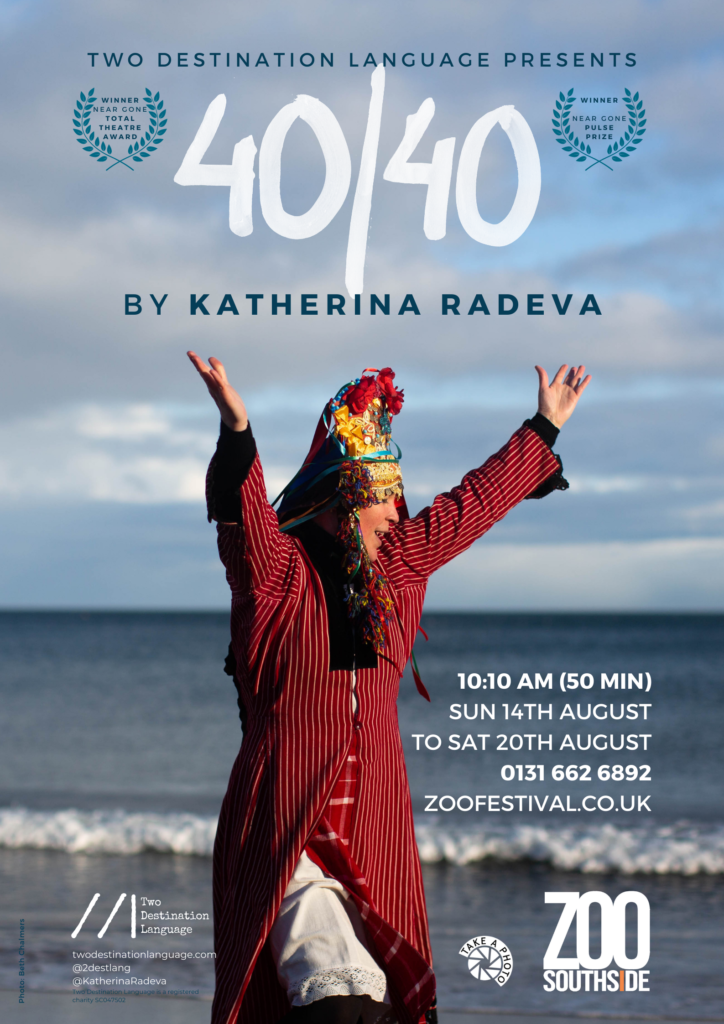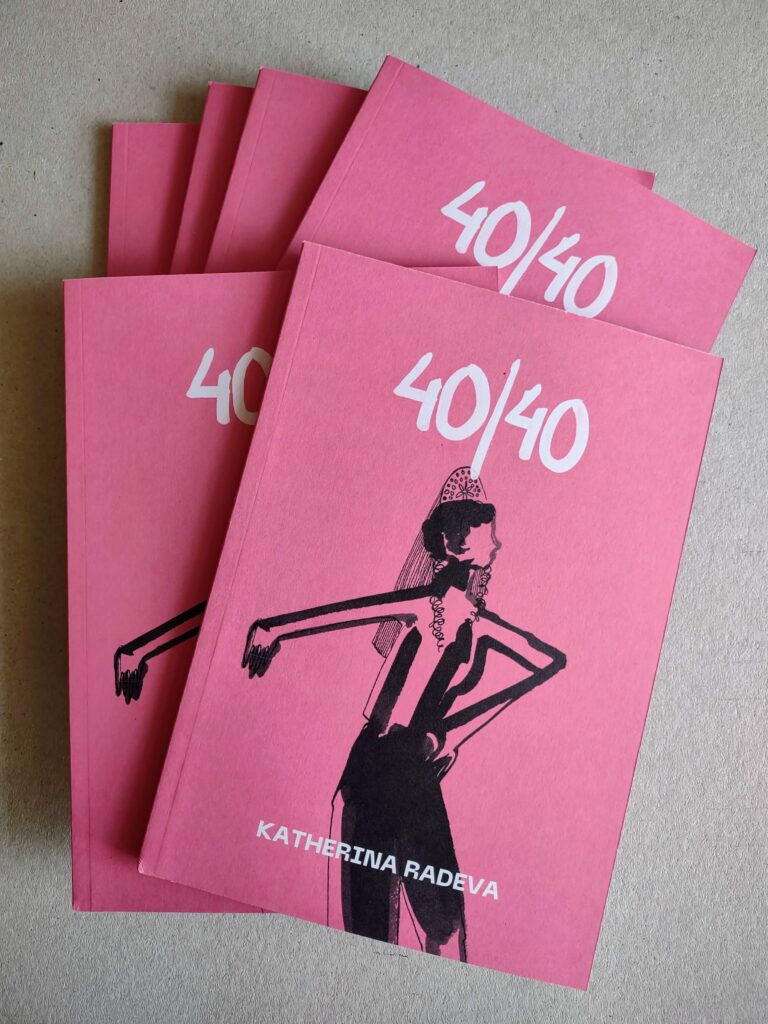 Set and Costume design projects in 2022 are work with Notnow Collective in Birmingham, research and development with Jo Bannon and The Trauma Show by Demi Nandhra opening at BAC then touring. Other stuff is brewing!
I start the new year with some cards! You wanna a tiny piece of me – buy my cards calling for a better, more just world! Tenner for five! See them all below.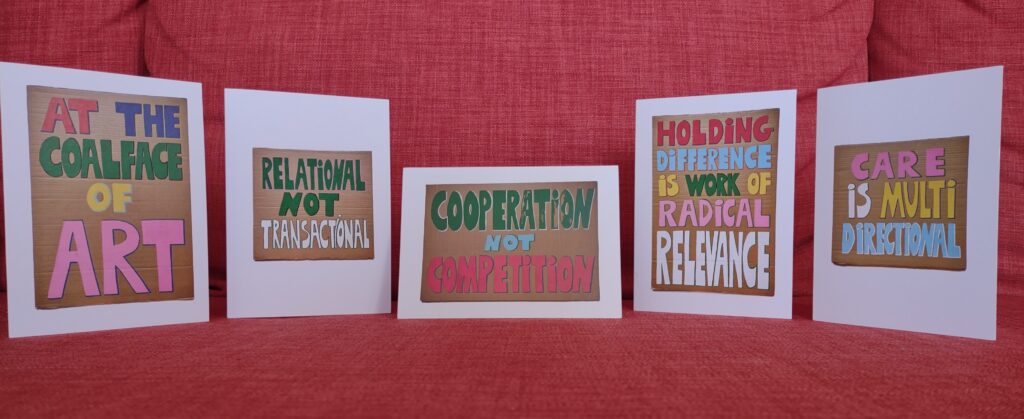 2021 was pretty amazing really. I worked with Matty May – If You Love Me This Might Hurt at Camden People's Theatre: In Bed with My Brother – PRIME TIME at The Barbican Centre; Dirliebane Theatre – Cinnamon Sisters at Perth Theatre Scotland; No Planet B at Horsecross Arts in Perth with Vickie Beesley; November Club working Nathan Crossan-Smith; Scottee and Fat Blokes Company on The Kind Body. Some of my design and drawings for Selina Thompson's salt can be seen on BBC i-player. I tried to do all of that as sustainably as possible with every design choice I made. #designingsustainably
BUY OUR BOOKS – all three for £20 inclusive of p&p in the UK. Click here!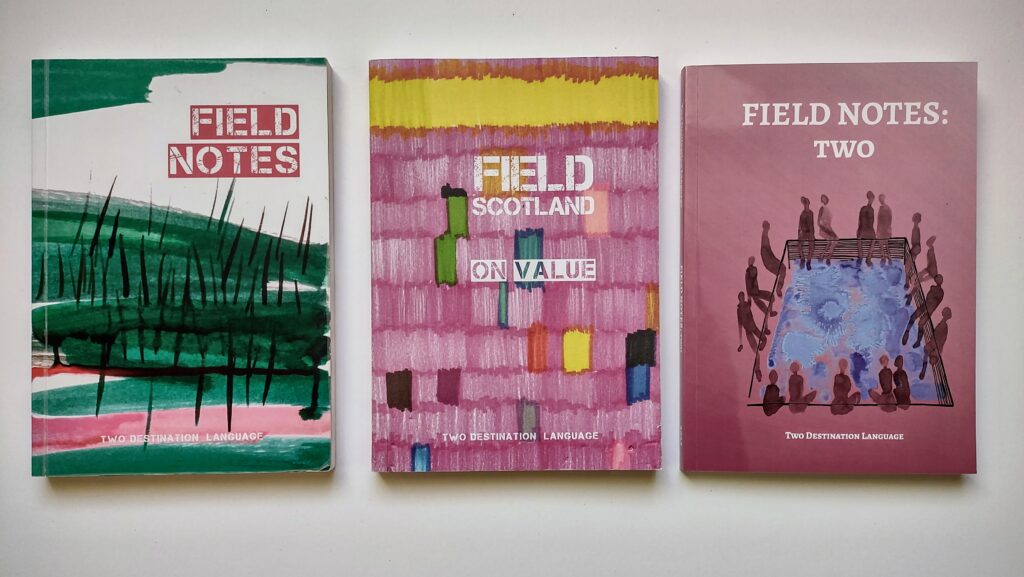 We made a little 6 minute film called LONE WOLVES, to watch it, click on the image blow. If you like it and want to give us a fiver, please donate here
NEW! NEW! Get NEWS, SIGN UP to my newsletter HERE! Follow me on Instagram and Twitter @KatherinaRadeva
Hello! I am Katherina, most people call me Kat!
I am Set and Costume Designer for Performance, Visual Artist and Creative Collaborator. I work with some of the most exciting theatre makers of NOW!
Born in 1982 in Bulgaria I have a Fine Art Diploma from the National High School for Fine Arts in Sofia, Bulgaria and a First Class Honors Degree in Theatre Design from Wimbledon School of Art, London. I have been living and working in the UK since 1999.
I design for theatre, performance, contemporary dance, site specific events, interactive installations, outdoor shows, you name it I have probably done it! Or if I haven't done it, I'd love to do it. My designs tour extensively in the UK, Europe and the wider world.
My visual art works are a vital part of my practice and are part and parcel of my design thinking. My recent paintings, prints and drawings can be found on my website but for older work, do get in touch. I make a lot and often have no time to upload it here.
I am also the Artistic Director of Two Destination Language together with Alister Lownie, an award winning theatre company which tours extensively around the UK and internationally. Two Destination Language makes visually striking and intellectually stimulating work about identity, belonging, politics and how cultures interacts and are defined in contemporary society. @2destlang www.twodestinationlanguage.com
Contact me here Follow me on Twitter @KatherinaRadeva
AWARDS for shows I have designed or co-devised and directed:
2019 – CATS Award for Stick by Me by Andy Manley, Ian Cameron, Redbridge Arts
2017- Total Theatre Award and The Stage Award for salt. by Selina Thompshon
2014- Herald Angel for Falling in Love with Frida by Caroline Bowditch
2014- Total Theatre Award for Near Gone by Two Destination Language
2013- Pulse Suitcase Prize for Near Gone by Two Destination Language
2009- Rules & Regs- professional development, South Hill Park, UK
2006- Artsadmin Bursary Recipient for Early Career Artists
2005- Linbury Biennial Prize for Stage Design: Finalist
2003- Wimbledon School of Art Bursary- Prague for the Prague Quadrennial