@KatherinaRadeva #KatherinaRadeva #Thresholdartspace @HorsecrossPerth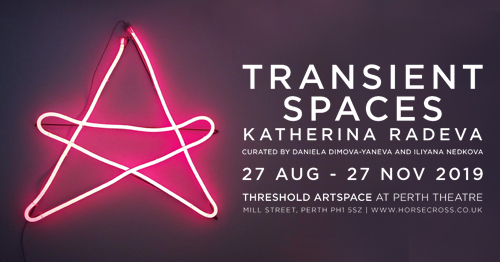 Join the conversation at facebook.com/groups/Thresholdartspace
Encounter the work of the Bulgarian-born Scottish visual and performance artist Katherina Radeva known for her award-winning work with the theatre company Two Destination Language. Discover the prolific yet under-represented side of Radeva, the visual artist – the restrained style of her brush stroke and her intellectually stimulating painterly work about identity, belonging, politics and culture. Join us at for Radeva's first solo exhibition in a public institution at Threshold artspace, Perth Theatre. See a curatorial selection of Radeva's oeuvre including rare and never-exhibited before prints, paintings, drawings and objects.
To purchase items from the exhibition, click here. Please note that no works can be removed before the end of the exhibition.
Curated by Daniela Dimova-Yaneva and Iliyana Nedkova.
Produced and supported by Horsecross Arts for Threshold artspace and Creative Scotland, in partnership with the Bulgarian Cultural and Educational Centre Scotland and Two Destination Language
GUIDED TOURS
DATE: 27 Aug – 27 Nov 2019, 11.30am or 4.30pm
Join our popular exhibition guided tours led by our resident curator Iliyana Nedkova, Horsecross Arts Creative Director of Contemporary Art or by our guest curator Daniela Dimova-Yaneva, Director of Bulgarian Cultural and Educational Centre Scotland. Choose from Coffee, Croissant and Art 11.30am-1pm or Wine, Olives and Art 4.30-5.30pm. Only £5 per person including refreshments. No prior experience of contemporary art required. Book your tour in advance by contacting Iliyana Nedkova at inedkova@horsecross.co.uk